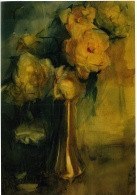 1 Gallon Yellow Rose IPA All-Grain Kit
$15.99
This one gallon recipe may be small in stature, but it is packed with flavor. The Vienna and Caramel malts combine to give this beer a nice malt backbone without being too overpowering. The Amarillo hops impart a vibrant floral and citrus character. Add to that the clean finishing yeast, this brew will make any hop head happy.
Calculated Appx.:    O.G.: 1.056      F.G.: 1.011        ABV: 5.9%        IBU: 42       SRM: 7
Choose which yeast you'd like to use from the list above.
Click here to view the recipe sheet for 1 Gallon Yellow Rose IPA All-Grain Kit.
We ship out kits with liquid yeast at the beginning of the week and include a cold pack during warm months to ensure freshness.