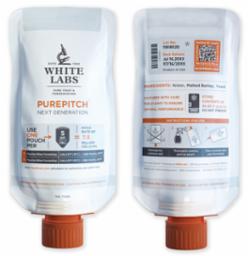 WLP820 White Labs Oktoberfest Lager
$15.99
PurePitch® Next Generation combines the ease of the vial and the innovation of PurePitch®, offering a pouch with a cap AND double the pitch, allowing you to pitch like the pros
White Labs WLP820 Oktoberfest Lager liquid yeast produces a very malty, bock like style. It does not finish as dry as WLP830. This yeast is much slower in the first generation than WLP830, so we encourage a larger starter to be used the first generation or schedule a longer lagering time.
Attenuation: 65-73%
Flocculation: Medium
Optimum Ferment Temp: 52-58°F (11-14°C) 
Alcohol Tolerance: Medim-High
Note: This is a special order item, please allow for an extra week for delivery. We send our liquid yeast out at the beginning of the week and include a cold pack during warm months to ensure freshness.