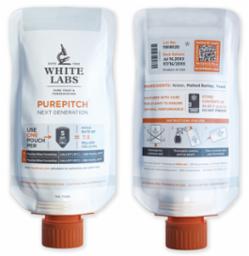 WLP545 White Labs Belgian Strong Ale
$15.99
PurePitch® Next Generation combines the ease of the vial and the innovation of PurePitch®, offering a pouch with a cap AND double the pitch, allowing you to pitch like the pros. No need for starters!
WLP545 Belgian Strong Ale is from the Ardennes region of Belgium, this classic yeast strain produces moderate levels of ester and spicy phenolic character. Typically results in a dry, but balanced finish. This yeast is well suited for Belgian dark strongs, Abbey Ales, and Christmas beers.
Attenuation: 78-85%
Flocculation: Medium
Optimum Ferment Temp: 66-72°F
Alcohol Tolerance: High
This is a special order item, please allow for an extra week for delivery. We ship our liquid yeast on Mondays and include a cold pack in warm months to ensure freshness.
Check out more information on White Labs.