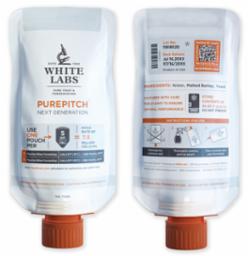 WLP080 White Labs Cream Ale Yeast Blend
$15.99
PurePitch® Next Generation combines the ease of the vial and the innovation of PurePitch®, offering a pouch with a cap AND double the pitch, allowing you to pitch like the pros. No need for starters!
WLP080 White Labs Cream Ale yeast blend is a blend of ale and lager yeast strains. The strains work together to create a clean, crisp, light American lager style ale. A pleasing estery aroma may be perceived from the ale yeast contribution. Hop flavors and bitterness are slightly subdued. Slight sulfur will be produced during fermentation, from the lager yeast.
Attenuation: 75-80%
Flocculation: Medium
Optimum Ferment Temp: 65-70°F (18-21°C)
Alcohol Tolerance: Medim-High
We ship out our liquid yeast early in the week and include a cold pack during warm months to ensure freshness.
Note: This is a special order item, please allow for an extra week for delivery.