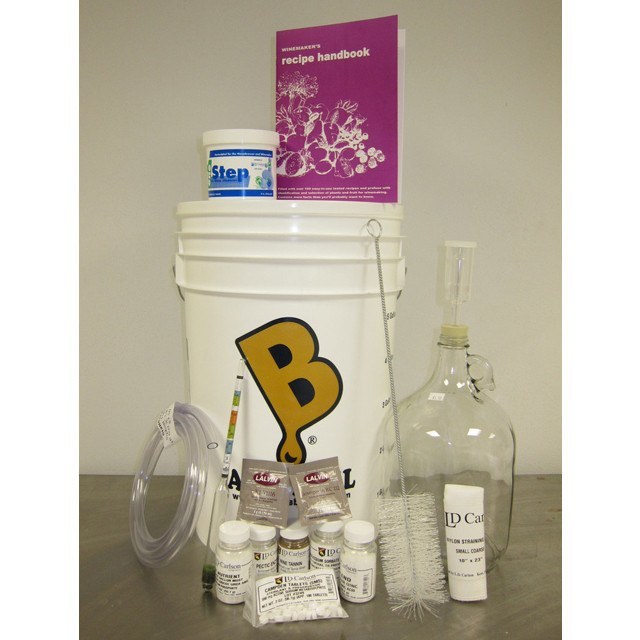 Wine Starter Kit - 1 Gallon for Fruit
$65.00
Looking to make your own wine or have a friend who would like to? Our one gallon starter kit could be exactly what you are looking for. Save $10 compared to buying all these items individually!

This kit comes with everything you will need, minus the bottling supplies and the fruit, to make one gallon batches of wine. You can get up to five 750ml wine bottles from a gallon. 
Our kit includes the following: 
6.5 gallon food-grade bucket and lid (primary fermenter)
1 gallon glass jug and #6 stopper (secondary fermenter)
3 piece fermentation lock (goes in the bucket lid and then #6 stopper)
3/8" siphon hose (siphon wine between containers)
Bottle brush (scrub out bottles or your gallon jug)
One Step cleanser (use to sanitize your equipment)
Hydrometer (use to determine when to pick fruit, how much sugar to add, whether the wine is done fermenting, and alcohol content)
Small coarse nylon bag (reusable bag that you put fruit in to help pulp removal and pressing easier)
Winemaker's Recipe Handbook (great book filled with interesting 1-gallon recipes)
Acid blend (use to adjust acid level and pH)
Wine tannin (helps with clarity, shelf stability, and mouth-feel)
Pectic enzyme (breaks down pectin in fruit to help with clarity and improve yield)
Yeast nutrient (gives yeast what it needs for a healthy clean fermentation)
Campden tablets (sodium metabisulfite, used to sterilize must and help with longer term wine storage)
Lalvin 1116 yeast packet (great all-purpose wine yeast, makes a dry wine)
Lalvin 1122 yeast packet (great all-purpose wine yeast, not quite as dry)
Winemaking instructions (short handout discussing winemaking tips and tricks)
This one gallon starter kit will help any beginner make great wine. And remember you can always contact us with any questions. And when it comes time to bottle your wine, we have all the supplies you will need.
Makes a great gift for any wine lover!