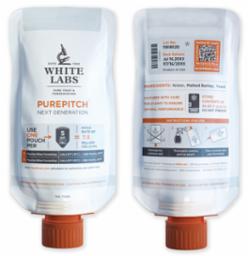 WLP550 White Labs Belgian Ale
$15.99
PurePitch® Next Generation combines the ease of the vial and the innovation of PurePitch®, offering a pouch with a cap AND double the pitch, allowing you to pitch like the pros. No need for starters!
Saisons, Belgian Ales, Belgian Reds, Belgian Browns, and White beers are just a few of the classic Belgian beer styles that can be created with WLP550 Belgian Ale yeast. Phenolic and spicy flavors dominate the profile, with less fruitiness then WLP500.
Attenuation: 78-85%
Flocculation: Medium
Optimum Ferment Temp: 68-78°F
Alcohol Tolerance: Medim-High
Note: This is a special order item, please allow for an extra week for delivery. We ship liquid yeast on Mondays and include a cold pack during warm months to ensure freshness.
Check out more information on White Labs.