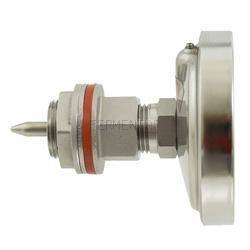 Weldless Stainless Thermometer 2" Probe
$35.99
Upgrade any vessel and enjoy monitoring temperature from a safe distance! Gone are the days of opening kettle lids to check wort or mash temperatures! With this weldless thermometer, you can now upgrade any existing kettle or keg to read temperature from the outside! 
It has a 2 inch probe, making it ideal for use in your mash tun. The 2 inch stem is short, so it's perfect for a hot liquor tank or boil kettle. This weldless thermometer will work in kettles & kegs! The thermometer features a hermetically sealed face, all stainless construction, and a fast response to temperature change.
Features:
Thermometer with 2" Probe and 3" Dial Face.
All stainless construction.
High temperature food grade silicone gasket.
Will work great with kettles & kegs!
Requires a 1" hole to be drilled in the vessel for installation.