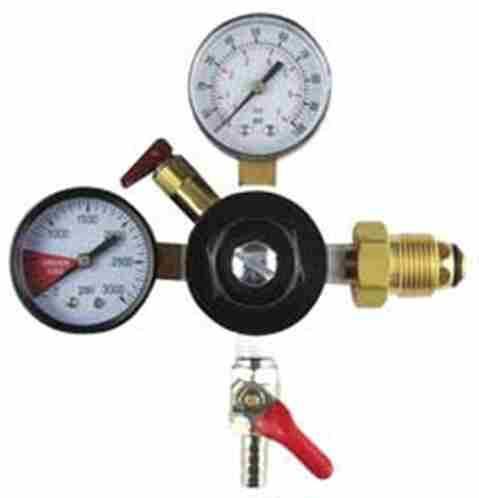 Nitrogen Regulator - Two Gauge w/ Check Valve
$129.99
Do you love stouts? If so, what could be better than being able to pour a silky smooth, nitro finished stout at home? 
If this sounds good to you, this double-gauge nitrogen regulator is a must have. It works much the same way as a CO2 regulator does, just instead of carbonating and forcing beer out with CO2, you'll be doing it with "beer gas," which is a mixture of nitrogen and carbon dioxide. 
This regulator hooks up to a nitrogen cylinder and comes with both a high pressure gauge that tells you how much gas you have left in the tank and a low pressure gauge that tells you what pressure you are serving at. It also has a pressure release valve, a screw with which you determine and lock in the serving pressure, and a check valve. Has a 5/16" barb, to which you can connect 5/16" or 3/8" gas line.
You will need a nitrogen cylinder to utilize this regulator, and we recommend serving your beer with a stout faucet to get the best finish on your nitro beers, whether they are stouts, red beers, or any other delicious brew served via nitrogen.