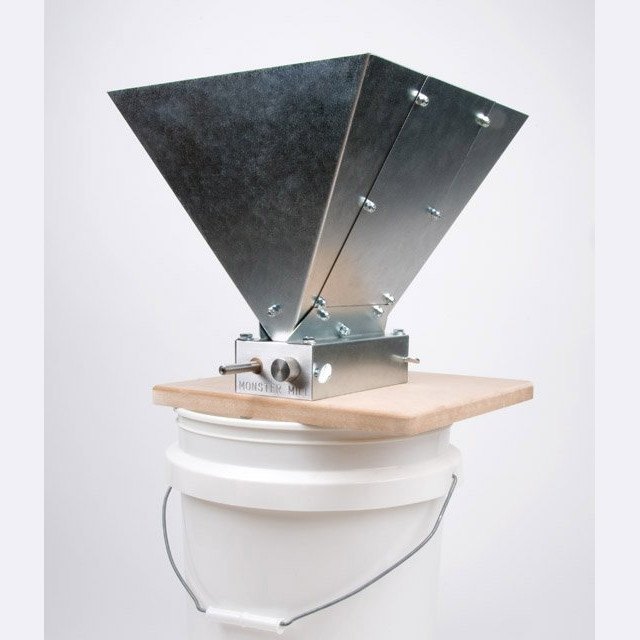 Monster Mill 2-Roller Grain Crusher with Steel Hopper and Base
$214.99
This double-roller Monster Mill grain crusher is a heavy-duty, fully-adjustable, all-purpose mill for any homebrewer. This mill comes with the roller assembly, base, and 11 lb capacity steel hopper. All you have to do is use a corded electric drill or add a 3/8" crank handle to crush your grain perfectly each time.
This mill, also called the MM2, has a two-roller configuration that allows you to adjust the gap between rollers. Want a higher efficiency? All you have to do is narrow the gap. Want a coarser grind or are you milling a lot of wheat? Simply adjust the rollers to allow for a wider gap. 
When motorized, you can mill around 6 lbs of grain per minute.
The hopper is made with sturdy galvanized steel, is 9" tall and has an opening of 11.5" x 12.75", and has an approximate 11 pound capacity. 
The base is 12" x 12", which should fit on top of standard 5 to 6.5 gallon buckets.
The roller assembly is made with a 6061 aluminum block frame and has two 6" long x 1.5" diameter knurled steel rollers on SAE 841 oil-impregnated bronze bushings, an adjustable roller gap spacing with 0-0.070" range, dual eccentric gap spacing adjusters built from stainless steel to prevent galling, a 3/8" integral drive shaft with three flats for drill driving or hand cranking, and a 2" long outside frame with 3/8" integral axles.