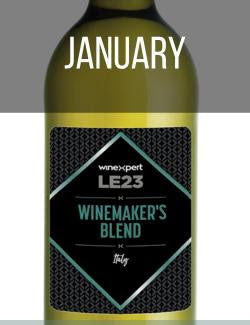 LE23 Italian Winemakers Blend White Wine Kit (Reserve - Limited Edition)
$150.99 $169.99
This LE23 kit should arrive in January 2024.
The varietals in our Winemaker's Blend play off each other to create a crisp off-dry wine with a tapestry of vibrant fruit flavors. Pinot Grigio leads with lush peach and apple flavors. Riesling adds aromatics, a shot of sweetness, and amplifies fresh acidity. Vermentino plays up the citrus character, while Verduzzo brings tropical notes to the background. A touch of Trebbiano rounds out the orchard fruit flavors and adds a fresh mineral accent.
This Italian Winemakers Blend 6 gallon winemaking concentrate kit comes with everything you'll need to make around 30 bottles of delicious wine. It even comes with the labels.
Alcohol %: 12.0%
Sweetness: Off-Dry
Body: Light-Medium
Oak: None
Normally $169.99, pre-order by 6pm on Thursday, November 9th, and save $19!