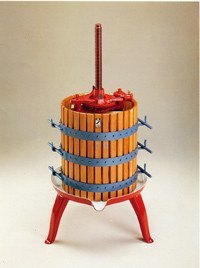 Fruit Press Rental
$25.00
This #25 ratchet-style large press has an approximately 50 lb. basket capacity (approximately 10" x 14"). Perfect for medium sized batches of wine or cider. 
Note that it is necessary to crush fruit before pressing it, especially harder fruits, like apples or pears. We also rent a Manual Fruit Crusher or Electric Fruit Crusher.
This press is quite large, so if you rent this out, you'll need a large car, truck, or van to transport it.
Contact us to reserve this or to ask about availability.