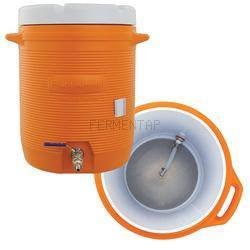 Mash Tun w/ False Bottom and Ball Valve - 10 Gallon Cooler
$174.99
A 10 gallon cooler-style mash tun is a great way to get into all grain brewing! These coolers work very well as mash tuns, as you'll notice barely any temperature loss throughout your mash.
You should be able to mash around 24ish lbs of grain in this mash tun.
Internal dimensions are 18.375"H x 12.875"D. External dimensions are 20.875"H x 15.875"D with lid on.
Comes with a stainless ball valve cooler kit and our 9" stainless steel false bottom. The barb size on the mash tun for the output is 3/8".