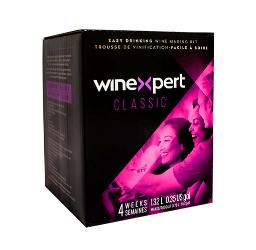 California Chardonnay 1 Gallon Wine Kit (Winexpert Classic)
$29.99
Supple and slightly buttery, this wine lingers on the palate with layers of toast and spice. Extremely versatile with foods, this is the 'red wine' of white wines, combining beautifully with grilled pork, chicken, fish, salads and cream-based pasta sauces.

These kits come with everything you'll need to make a great wine, including the yeast, preservatives, clarifiers, and if called for, oak.
This California Chardonnay concentrate wine kit makes 1 gallon (~5 750ml bottles) of white wine.
Note: We rotate our stock of the Winexpert kits. We may not have all kits displayed here in stock at all times, but can get any of them. If a kit is not in stock, please allow for an extra week or so for delivery.