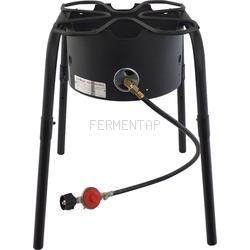 Burner - Camp Chef Cooker (60,000 btu)
$159.99
This Camp Chef Cooker portable, propane burner allows you to boil up to 25 gallons anytime, anywhere. Included leg extensions raise the burner to a height of 22", easily allowing for gravity-fed transfer of liquid from kettle to fermenter. Sturdy design works perfectly with any of our kettles or a converted keg. An included high-pressure regulator allows for great flame control.
You will need to supply a barbecue style propane tank. Burner has 60,000 btu rating. 
This burner can bring 10 gallons of water to a boil starting from 66F in 35 minutes.
A perfect burner for brewing all-grain!
Please note this item is special order, please allow an extra week or two for delivery.