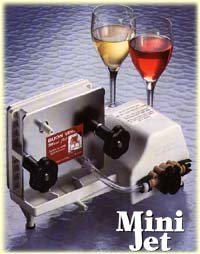 Minijet Motorized Wine Filter (Buon Vino)
$249.99
The Minijet motorized wine filter from Buon Vino is designed with the small quantity wine maker in mind. Compact enough to filter anywhere, this filter has a built-in pump and motor and operates using 3 filter pads at one time. It has an incorporated drip tray and drainage tube for convenience. With the Mini Jet, your filtered wine is always crystal clear!
For best results, filter sequentially - first with #1 minijet filter pads, then #2 minijet filter pads, and lastly with #3 minijet filter pads.
Takes about 15 minutes to filter a 5 gallon batch.
You can also use this as simply a pump by bypassing the filter plate.