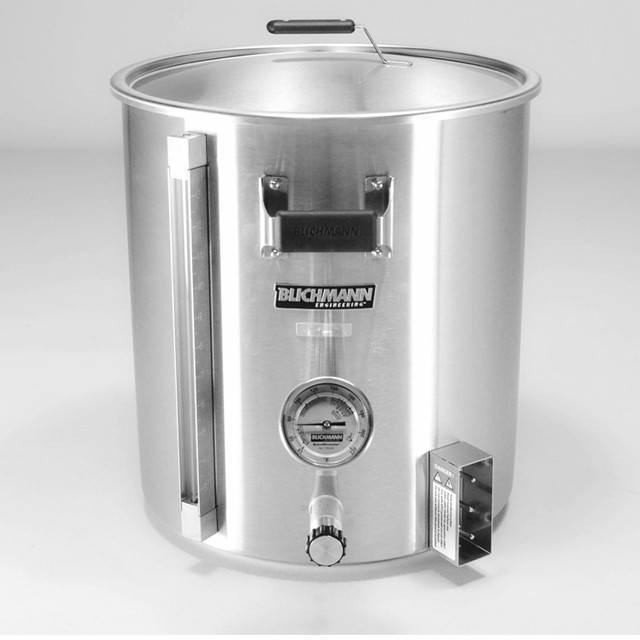 Blichmann G2 Electric BoilerMaker Kettles
$409.99
These kettles are customizable and special order only. Please click here to contact us for current availability and pricing. Thank you!
The Electric Blichmann Engineering BoilerMaker™ G2 is a no compromise premium brew pot packed with standard features like a patent pending linear flow drain valve that can be oriented in any direction and disassembles in seconds for cleaning. This US made single piece construction pot carries a lifetime limited warranty. From the sleek easy to clean surface finish, to the cool touch custom molded grips, durable easy to read level gauge, snap-in drain tube, the informative BrewMometer™ and broad suite of accessories like the patented Button Louver™ false bottom, patented HopBlocker™ and AutoSparge™, this pot defines awesomeness. The BoilerMaker™ G2 is clearly in a class of its own.
All the items you need come standard, installed, and ready to use on the G2 Brew Pot:
Heavy gauge, 304 single piece, deep drawn, weld-free 

American made

 construction will turn this pot into a family heirloom*
Blichmann Engineering was the innovator of the 1.2 height to diameter ratio not the imitator!  All of these pots perform consistently and flawlessly with homebrewers in mind
Patent pending parabolic valve provides linear flow for unparalleled flow control. Built in 90 degree outlet can be oriented at any angle to make hose routing simple and kink free. Cool touch silicone grip makes handling under fire easy.
120 volt or 240 volt BoilCoil™ (the G2 kettle comes with a pre-punched hole for easy installation)
Includes adjustable viewing angle BrewMometer™ with our unique patented brewing dialface - the ultimate in brewing convenience
Improved surface finish hides finger-prints and cleans impeccably. Sleek brush on the outside and a silky smooth satin finish on the inside.
Standard heavy-duty borosilicate glass level gauge never clouds or scratch. Features rugged stainless steel guard with engraved volume graduations, cleaning brush and clean-out ports. Much easier and more accurate than internal graduations. It will also act as a mash manometer and 

warn you of impending stuck mashes!

Exclusive snap-in dip tube design installs without tools and drains to within 3/8" of bottom!
Handle orientation that makes carrying easier and lid storage on the pot handle.
Cool touch high impact glass filled nylon handles are durable, comfortable, and cool to the touch.
Stepped bottom on pot supports mash screen and virtually eliminates sidewall shunting.
This is a special order item and will ship directly from Blichmann Engineering. After you place your order we will contact you with an exact shipping quote. 
Also, if you would like a hole punched for an AutoSparge, write that in the Notes section of the cart and let us know the location (L1, L2, L3, R1, R2, R3, please see image). We will include the punch charge in your shipping quote.
Note: The 55 gallon version comes with 2 BoilCoils.