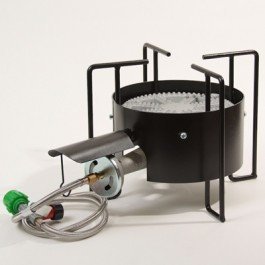 Bayou Classic Banjo Propane Burner
$159.99
The Bayou Classic Banjo Propane Burner is a heavy duty cast Iron burner. It has 16″ cooking surface designed to safely support large cooking kettles.
Comes with a 48″ LPG hose, 30 PSI Preset Regulator with Brass Control Valve. Is capable of supporting up to 80 qt (20 gallon) kettles.
Puts out a minimum of 100,000 BTUs. A heck of a burner!
Please note this item is special order, please allow an extra week or two for delivery.
Check out our other burner options.