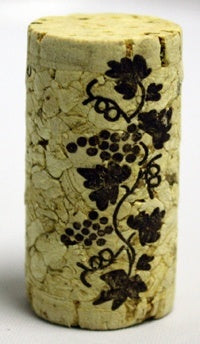 #9 Premium Quality Straight Wine Corks, Dozen Count
$3.75
#9 Premium straight wine corks are fantastic for wine that you want to store for a few years. We definitely recommend using a large floor corker with these, and soaking the cork for 30-60 minutes in hot water beforehand is not a bad idea either.
These premium wine corks are non-chamfered and have an agglomerated cork center with natural cork disc ends. They are printed with a decorative grape leaf pattern. These corks have few flaws. 
This is a great cork to use with the Portuguese Floor Corker or Italian Floor Corker. We sell this cork individually, by the dozen, by the hundred, or by the thousand.
Dimensions are 15/16" x 1 3/4"