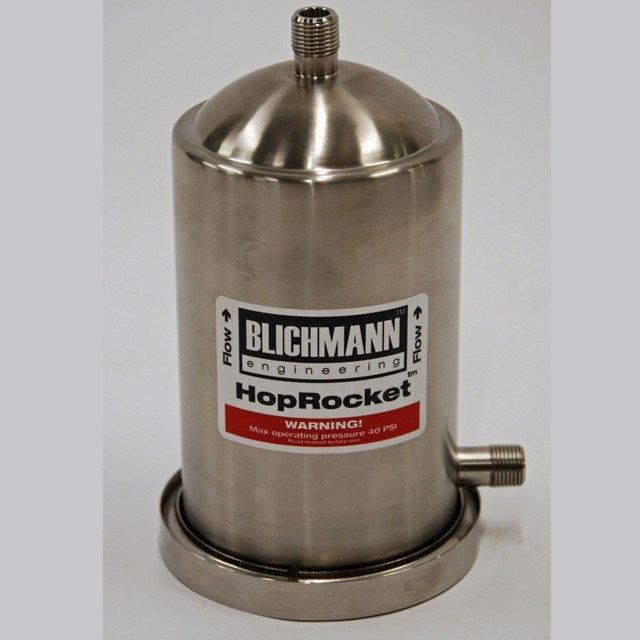 Hop Rocket Rental
$10.00
Reserve your Hop Rocket rental today!
The HopRocket™ is an incredibly innovative hop infusing tool packed with world-class features! It can be used as a hopback, but it also doubles as an in-line hop infuser (Randalizer) for your beer-dispensing system. Definitely cool, consistently reliable and clearly Blichmann, the HopRocket™ will send your hop aroma into orbit!
Holds up to 3 oz. of whole hops as a hopback and 4 oz. as an infuser - twice as much as the competition!
100% stainless construction and silicone seals.
No need to monitor wort level because the HopRocket™ will never overflow and spill
Fully enclosed system from brew pot to fermentor means no volatile hop aromas are lost
Inlet at the bottom allows air to automatically purge to reduce hot-side aeration.
Fine filter with wiper seal sends very clear wort to your fermentor.
Coarse filter and cone bottom inlet prevents wort channeling and backup for even hop utilization.
Works on gravity systems and with pumps (about 4 feet — or 1 meter — of static head is recommended for best gravity performance).
Doubles as an awesome hop infuser (Randalizer) for your dispensing system.
1/2" NPT connections are easy to adapt
We also sell Hop Rockets. Once you use one, we're convinced you'll want to use it for all your hoppy brews.
Contact us to reserve this or for availability.