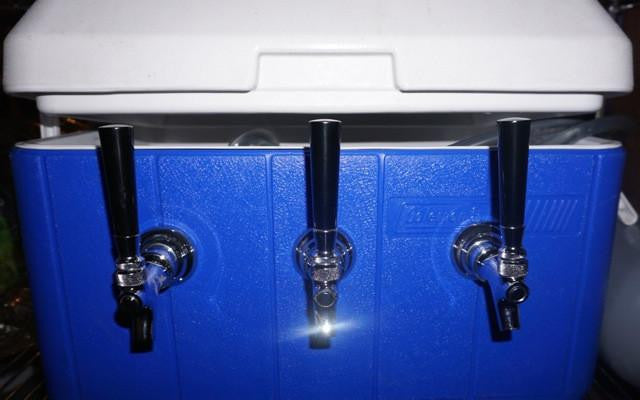 Draft Box - 3 Line
$399.99
The draft box with 3 taps is the perfect tool for serving beer at parties, cookouts, tail gates, festivals, or any other event you can think of.
This cooler has a three circuit cold plate that connects to three shanks and faucets, perfect for serving 3 different beers at once. Just fill the cooler with ice water and the beer is chilled as it travels through the stainless steel tubing contained in the cold plate. How sweet is that?
And you can either purchase this very lightly-used draft box for $399.99 or rent it by the day. 
The pricing for renting the draft box and accessories is as follows:
1 day of rental is pick up the system at the Shop one day, return it to the Shop the next day
$25 for the draft box, cold plate, and regulator
$15 for a 10 lb CO2 tank (includes the CO2)
$2.50 per corny keg setup (1 gas and 1 liquid disconnect), up to 3 setups
$5 per sanke coupler, up to 3 couplers
If you would like to rent the box for more than one day, everything is 1/2 price for each additional day.
There is a $800 deposit on the system.
If you would like more information or would like to reserve the system, either stop into the Shop (1919 Monroe St), call us (608-257-0099), or contact us via e-mail.