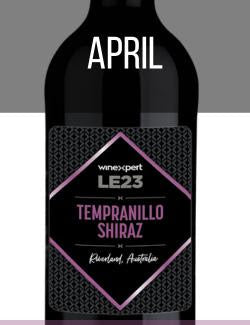 LE23 Australian Tempranillo Shiraz w/ Grape Skins Wine Kit (Reserve - Limited Edition)
$169.99 $189.99
This LE23 kit should arrive in April 2024.
Tempranillo and Shiraz are exceptional blending partners creating a poignant blend abound with rich fruit and spice. Aromas of red berry, chocolate, and peppery spice set the tone for a palate packed with flavors of black cherry, raspberry, blueberry, and plum. Ripe tannin and rich spice lend to the lush mouthfeel, while layered notes of milk chocolate play off savory elements of tobacco and licorice. A blockbuster example of how these two flavorful grapes amplify each other.
This Australian Tempranillo Shiraz w/ Grape Skins 6 gallon winemaking concentrate kit comes with everything you'll need to make around 30 bottles of delicious wine. It even comes with the labels and some grape skins to add tannins and complexity to the finished wine.
Alcohol %: 14.0%
Sweetness: Dry
Body: Full
Oak: Heavy
Normally $189.99, pre-order by 6pm on Thursday, November 9th, and save $20!